Posted by

cafuego

on Sunday 2 December 2012.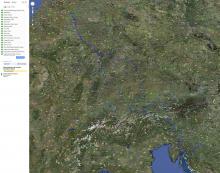 We've been back in Melbourne for a few months now and it's high time I do a write-up of our trip around Europe. This trip was to attend DrupalCon in München and in order to acclimatise and get over our jetlag, we'd given ourselves a week in The Netherlands right after arrival.
With a minor heat wave in progress, we arrived into a lovely warm summer.
Last time we were in Europe we neglected to have much of a holiday and instead just hung out with friends. We decided that this time we'd hire a car and go explore placed we'd never been before. Kattekrab wanted to see some of Croatia and I wanted to see actual big mountains, since we don't get many of those back in The Netherlands.
Below is a travel log of our road trip. The letters for each heading correspond to the placemarks on the map.
A. Frankfurt
After arrival we picked up our compact hire car from hertz.
Turns out that "compact" means "giant SUV" these days. Not entirely happy to now have to drive a tank through small european towns, but at least this was a diesel, which meant some fuel savings over the petrol car we were supposed to get. Discovered that hertz forgot to fill the tank about 20km from the airport when the fuel light suddenly lit up. Grr! 
B. Breedenbroek

Hanging out in the back yard, eating sun-warmed mulberries directly from the tree and doing nothing much but walking the dog and playing with this year's batch of kittens before going for a relaxed bike ride in the evening.

We got wind of the concept of a "milk tap", where you rock up to a dairy with an empty bottle and fill it up with fresh raw milk, but unfortunately it seems the one mentioned on the intertubes was no longer in service.
However, we found excellent raw milk and vanilla custard at a farm shop not too far away the day before we had to leave, though.
C. Bocholt
Popped across the border to grab a flat-rate german 3G data sim to use in the MiFi device we had with us. So helpful to get a handful of smartphones, laptops and a tablet online simultaneously. At about two Euros per day, that worked out very nicely.
Obtained a speeding ticket, which worked out less nicely. I'm sure that wasn't a 40 zone last time, though.
D. München
The drive down from Breedenbroek to München is about on par with driving from Melbourne to Canberra, so easily done in a day. Especially when considering that for some stretches of autobahn there is no speed limit. The giant SUV's top speed turns out to be just over 180kph and makes KatteKrab road rage some BMWs that sit in the fast lane doing only 160 or so.
The original plan was to spend the night somewhere around Ingolstadt, but since we'd made such good time, we decided to drive on to Münich (through hills covered in hop vines) and try our luck at the hotel a day early.
Happily our room was available, so we were on the ground and able to help with the conference preparations bright and early the next morning.

The conference was lovely, and I enjoyed it. This updated blog with its new WYSIWYG is a direct consequence of DrupalCon (thanks, Jen Lampton ;-) but I'm not going to do a conference write-up. I note though that each meal was a delicious orgy of potato, cabbage, pork and salty pretzels.

During the conference, Michel - one of our dutch friends - got wind we were in Europe and demanded we should see him. We'd already left Holland and weren't coming back, so we convinced him to fly to München, come on our road trip and fly directly from Croatia to Geneva, where he had a work meeting the next week.
We picked him up after giving Emma-Jane a lift to the airport and hit the road, heading south toward the Alps.
E. Bischofshofen
Needing a break, we decided to get off the autobahn and grab some snacks. Not having to pay attention to traffic, I got my first good look at an Alp. There appears to otherwise not be that much to do in Bischofshofen, which Michel tells me is a place you pass through on the way to the ski areas, so we had a stretch and hopped back in the car.
F. Bled

After standing in a traffic jam, waiting to pay tolls to enter the 7.8km Karawankentunnel between Austria and Slovenia, Michel mentioned that a former colleague had suggested he should visit a town called Bled if we ever found himself in the vicinity. Since the signs on the freeway said "Bled", we decided to detour :-)

Well, that detour was worth it. Bled is a very, very pretty bohemian town with a lake, castle, hotels and a lot of sunbathers.
G. Bohinjska Bela

Kattekrab wanted to have a perv around a bit further up the road, so we drove on a bit and had a leg-stretch in picturesque Bohinjska Bela.
We'd planned to stay the night a bit further south though, so onward we went.
H. Ljubljana
We found a nice hotel on the outskirts on Ljubljana to spend the night. It had WiFi and breakfast was included, so the perfect spot for three geeks to stop for the night. Ljubljana is pretty small, so we drove into town for dinner.


As it turns out, Ljubljana might be small, but is also very beautiful. After a so-so dinner at a tourist trap place with crap service (there are many, beware, we should perhaps have listened to what the hotel concierge recommended) we had a walk along the river, to soak up the atmosphere of the place. We'd contemplated taking a cable car up to the castle, but it was getting late, so we settled for ice cream instead.
The next morning the included breakfast turned out to be a giant spread of deliciousness with a self-serve espresso machine nearby. After a long and lazy breakfast, the cook insisted we take a huge amount of apple strudel for the road.
We set off, stuffed and laden with pastry, just as it started to rain.
Opatija
After turning off the freeway south of Ljubljana, we meandered our way towards the Croatian border through forested hills and sleepy little towns, accompanied by thunderstorms. When we reached the border, it turned out that Croatia is not part of the EU, so we had to fish out our passports and hope that Kattekrab didn't need a visa. Luckily, the customs officers weren't particularly interested in even looking at our passports, so we were waved through.
As we drove down from the hills and towards the Adriatic, the rain stopped and we got a beautiful view of the town of Opatija, looking pretty much like what I expect a french riviéra town to look like. By now it was lunch time, so we drove into town, dumped the car and wandered around looking for somewhere to eat.
Kattekrab found an eatery down a laneway and after realising that we (quaintly) also needed local currency it turns out that Croatia is quite the cheap country. I had a delicious risotto nero, whilst Kattekrab spotted the truffle pasta. Yum!

We didn't really have plans other than to dump Michel at the airport in Zagreb on Monday, so at random I decided we should drive along the coast for a while and stay in Krk on the island of Krk that night. Nobody objected, so off we went.
The road meanders along an inlet near Bakar and from there it's not too far to the turn-off to Krk.
I. Krk
Due to the giant double span bridge, there's no need to take a ferry to the island. We all reckoned that Krk is a popular holiday spot for locals, as we drove past severla kilometers of stopped and slow moving traffic trying to get off the island at the end of the weekend.
We had made no accommodation arrangements, but once we got to Krk, rooms and apartments are advertised everywhere. Some enterprising locals run various tourists infos from the living rooms and are able to give info on what's available and will point you in the right direction with a map.

We ended up in a room for three with balcony and ensuite on Ulica Mate Balote. The house it was in had obviously been built to accomodate as many holiday guests as possible, but it was pretty comfly, not expensive and within range of an open WiFi access point (important! ;-)

The town of Krk is nestled on the south coast of the island and is centred around an old citadel and after dragging our luggage to our room, we set of down the hill towards the waterfront. We circled the small harbour and had a look around the citadel, which also contains the old town.

Though there were of course the obligatory stands selling souvenirs, that was quite an enjoyable walk and it allowed Kattekrab to commune with the local cat population and I spotted where a local had created a tribute to Pythagoras in mosaic tiles.
Wandering around pretty towns is hungry work, so we decided to find a spot to sit down for dinner and enjoy the long warm evening. The terrace at the restaurant next to the youth hostel in the old town looked inviting, so we sat down for what would turn out to be a delicious and cheap fried squid dinner.
The drinks list got our attention and since we were quite comfortable and had nowhere to be, we decided to try all items on the list that we hadn't ever seen before.

I managed to impress our waitress by pronouncing šljivovica properly (as taught by our Yugoslav neighbours back in The Netherlands when I was growing up) and we worked our way through recommendations of šljivovica (plum), medica (honey), travarica (grappa, fuel), kruškovac (pear), amaro (cherry), orahovac (walnut) and pelinkovac (more pear) flavours. The travarica was indeed better suited to cleaning, as we were advised (too late) via twitter :-)
All in all that was a lovely evening despite being chased indoors by a thunderstorm. Luckily it was all dry again by the time we walked back.
J. Zagreb
The next morning we devoured our stash of Slovenian apple studel for breakfast and set off in-land, towards Zagreb. Croatia isn't particularly large (by Australian standards) so it only took an hour or two to get there. Since it was about lunch time, we decided to check out a local supermarket and make ourselves a picnic lunch.
Now I must say, we drove in through Novi Zagreb (the new part of the city I guess) and - Australians will know what I mean - it had that dejected Canberra-ness about it. I expect that it having been hot and dry didn't help, but it didn't seem like a particularly nice place.
We ate our picnic of bread, meat, cheese and fruit in Bundek park and went for a walk around the swimming hole. Since Michels flight wasn't until late afternoon, we hopped back in the car and drove across the bidge into old Zagreb, which is much prettier than Novi Zagreb.

After parking the car in front of an embassy and being able to make head nor tail of the parking restrictions sign, we had a look around the center of town and eventually found the cathedral. It was pretty enough, but infested with tourists, so headed back to the car, to leave enough time to get to the airport, in case monday afternoon rush hour in Zagreb is like Melbourne ;-)
As it turns out, the rush hour traffic is fine, but the signage leaves a little bit to be desired in places. Still, we got to the (tiny!) airport OK and after getting Michel checked in we had a coffee on the outside terrace. More airports could do with an outside terrace, to be honest.
After saying goodbye to Michel, Kattekrab and I agreed we weren't much interested in exploring inland, so we decided to head back to the coast, filled up the car and drove back the way we came. Well, almost the way we came. About halfway back to the coast we turned south, in the direction of Senj instead of Rijeka.
K. Senj

Coming over the last line of hills before the coast in the late afternoon gave us a beautiful view of the Adriatic and the islands. When we stopped to take a photo, two locals were selling cheeses (basic smoked primosale, essentially) and honey from the boot of a car, so we decided to grab a wheel of cheese to have for breakfast the next day.

The accommodation arrangements were no different from Krk and we chose a random "room available" sign to go and look at. That room was in fact two rooms plus off-street parking and a lovely view from the driveway, so the decision to stopd riving and stay where we were was easily made.

The fact that we could (again) pick up an unsecured WiFi access point may have helped though. A little bit of exploring up the road showed that our neighbours for the night were fig-fed tortoises.
We both got a definite "holiday" feeling on arriving in Senj, so we decided to stay there for two nights, rather than drive on. That happily also allowed for some kitchen sink laundry, as we could leave the washing the dry the next day.
Dinner that night was delicious, but spoiled by the restaurant staff taking constant smoking breaks just upwind of our table. Dear Croatia, please ban smoking at restaurants!


The next morning we had our cheese and some fresh local bread for breakfast whilst leeching internet for some twittering and email before setting out for a leasurely drive down the coast. That coastal road gives the Great Ocean Road a run for its money!
In places the old "road" was still visible. Or rather, a narrow path that most have been used mainly by donkeys.
We let our feet soak in the sea whist having ice cream at a tiny hamlet somewhere south of Cesarica until it was time to head back to Senj.

Since it was still quite warm and we were staying on the coast, I decided I wanted to have a look at the local waterfront. We clambered down a steep road and through wild fig trees until we got to small rocky beach where local kids were enjoying the water. I finally gave in and had a swim - should've done so much earlier. The water was lovely, not cold and totally clear.
Dinner that evening was my fifth kilo of fried calamari. Definitely go to Croatia for the fried calamari!
With our flight home only three days away, we started back north the next day.
M. Huben
In order to get as much time in the Alps as possible, we drove back north the way we came until we hit Spittal an der Drau in Austria, where we turned off the autobahn and headed west into a valley. The next hour and a half we drove along this valley, through quaint little towns, along mountain streams and flanked by forested green mountains.
As the sun was disappearing behind the mountains, we kept an eye open for somewhere to stay for the night. In the town of Huben a road led up to a higher valley, so we decided to find somewhere to stay and explore a bit before dinner time.
None of the advertised "Zimmer Fei" houses actually had zimmers frei, but a helpful local pointed us at the  pub in the middle of town. We had a look at the rooms and on discovering a giant apartment (with WiFi) the choice to stay was easily made.

There was still some sunlight, so after dumping our bags we hopped back in the car and set off up the mountain side in the general direction of Italy. After an initial steep climb, the road ended up in a perpendicular valley and then meandered along the north side, occasionally taking cover from rock falls. The mountains on either side were bright green with little clusters of houses stuck on them.

After a few kilometers, we decided to turn off and climbed up an ever steepening road, which brought us to the village of St. Veit in Defereggen, where the sealed road stopped and we had a little wander about. Kattekrab spotted an odd sign that turned out to be a milk tap sign, so I walked bakc to to the car to find some empty bottles and some coins. In the mean time however, Kattekrab had found the farmer and gesticulated her way into a free litre of delicious fresh raw milk :-)
As the sun started setting, we headed back to Huben to have schnitzels for dinner (whate else?) and then pass out in very comfortable beds.

Breakfast the next morning was another pleasant surprise. When we rolled out of bed at a most agreeable hour, a table covered in deliciousness was set for us. With coffee on the way. Now if you've traveled in Europe you'll know, the most delicious thing there is the bread.
During breakfast we got some tips from the proprietor on what to see in the area before moving on. He suggested we turn off the main road just before the Felbtauern tunnel, which would take us into the next valley, and have a walk around Innergschlöß.
N. Innergschlöß
Following his instructions, we found ourselves in a car park where tractors with trailers picked up tourists and set off further up the road. Non-local traffic was prohibited from entering, so we left the car and decided to have a walk around the valley.
We turn off the road and down a walking trail, which ran along a fast flowing river. The path took us to the foot of the mountains and from there meandered up the valley and back across the river and through a farmstead.

From there we could see the tractors driving up the hill and disappearing around a corner. Intrigued, we decided to walk up and see where all these people went. Climbing a few hundred meters on foot when your elevation is already over a kilometer turned out to be less than enjoyable, especially with it being quite warm. In the end we didn't quite make it as far as the tractors, though.

Whilst Kattekrab had a rest before we were going to turn back, I wandered up to the next corner and was treated to a rather nice view of the Großvenediger and its glacier!
The road evened out again at this point and I expect it went all the way up the valley to the foot of the glacier. It was time for us to move on, though, so we turned back and finished our Croatian road-side cheese for lunch before heading north through the tunnel.
O. Krimml
Whilst driving in the general direction of the german border, we noticed signs saying "waterfall". Since we'd not yet seen one and the mountains were tall and snow-capped (in the height of summer) we decided to go and have a look at this Krimmler Wasserfall.

Once we got there, the massive hordes of tourists were rather off-putting, but having caught a glimspe of a huge torrent of water coming down the mountainside we decided to have a look anyway. Rather than following the main path, we turned off toward what turned out to be a power station. We crossed the river there and wandered on toards the roar of water.
As we got close, there was an odd fenced-off area (electrified, no less) with deck chairs and a bunch of people getting dressed. We ignored them and clambered up the rocks until we were under the overhang of the final drop of the waterfall. Lovely and fresh, if rather loud.
As the weather started closing in, we drove off and started climbing up to the pass what would take us to Zell am Ziller in the next valley over. Unfortunately the weather had gotten ahead of us at that stage and as we zig-zagged down the mountain from Gerlos, an almighty torrent of rain was unleashed on us.
Since the weather prevented us from getting out of the car and looking around, we decided to push on and get ourselves closer to the german border so that the final leg of our trip would be less long.
P. Mieming
We decided to take the Fernpass into Germany but stay on the Austrian side of the border that night. Unfortunately we hit a bit of a delay when a ute's load caught fire in the middle of the road. After the fire brigade turned up and extinguised the fire, a few rather bemused looking gentlemen drove off slowly in a half-charred car. Shortly after the police let us pass and we contoinued on our way.
As it was getting dark we got to the town of Mieming and after some driving around we decided to stay at the large yellow building.
Unfortunately, the weather had not improved so we didn't end up seeing any of the mountains around here. However, clouds drifting through the valley did make for a spectacular view all on their own.
The next morning another giant Austrian breakfast awaited us.
Q. Illertal

What can I say? Sometimes you're oddly surprised when you need to make a pit stop along the Autobahn and sometimes you see frightening things. Very frightening things!
R. Illingen
After escaping what the Foursquare tip for the Illertal rest stop calls "Hell", we got stuck in an autobahn traffic jam along a piece of road that's marked as "frequent traffic jams" in a printed road atlas (see where google maps got the idea?) and so at our earliest convenience (an hour or so) we detoured onto country road.
Since it was lunch time by now, we pulled into the nearest town and had some coffee and bread rolls whilst we planned our route back to the airport. There was a fairly large greenish section of map in the direction we were going in, and since we had nothing but time we decided to drive through that.
S. Burg Ravensburg
The green bit turned out to be a rather pretty wine growing area with the odd hilltop castle. We decided to have a look at the Ravensburg, which appeared to be getting prepared for a wedding. I'm not sure if we looked like newlyweds to the staff, but they invited us to have a stroll through the chapel, dining room and bedroom. Which were all very lovely.
A stretch of autobahn not labeled as prone to traffic problems wasn't too far to our north, so we made our way there and resumed the trek back to Frankfurt. The last half hour was enlivened by a rather pretty red Ferrari, which we chased until traffic got too dense to safely do 160kph in our giant truck.
T. Frankfurt Airport
What can I say? It's as pretty as an airport. We had originally planned to arrive here the following morning, but since we were close it seemed sensible to drop off the hire car now. That way we didn't need to worry about it prior to departure and could sleep in for a bit.
The next day we leasurely repacked our luggage and left a pile of crap to be recycled in the hotel room. I'm sure the germans can be counted on to dispose of that thoughtfully :-)  And with that, it was time to walk to the terminal building and get on our flight back home to Melbourne.
I did manage to order a Raspberry Pi via my phone whilst we were waiting in the check in queue, and it did arrive in Melbourne only half a day after us, but what happened to that is a different blog altogether.