Posted by

cafuego

on Monday 30 March 2009.
On the weekend I acquired a shiny new PCI DVB card for use with MythTV.
The DViCO Dual Fusion 4 card I already had seems to have blown either one of its tuner chips or one of the USB bridges - and it's well and truly out of warranty - but the other tuner still works OK.  Depending on signal strength and channel, that is. The ABC and Channel 7 generally worked OK, but the rest was iffy at best.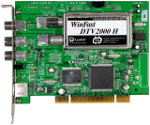 I was reliably (I hope) informed the LeadTek WinFast DTV2000H (model J) was much better at tuning and dealing with marginal signals and offered one at a price that was too good to refuse.
The drivers in the elderly KnoppMyth install I had weren't very happy with it and though building drivers from the v4l-dvb mercurial repo fix that, they made the DViCO card not work.
A tuz kernel would have solved this, had it not been for the fact that USB support in it seems totally børked.  The modules all loaded and detected the hardware, but then USB timeouts started occurring and slowing the machine down.
Somewhat exasperated, I decided to make use of the two 160GB SATA drives I had laying around and installed Mythbuntu 9.04 beta on a raid0 setup.
Both cards were properly detected and after re-adding the DViCO firmware (See linux/Documentation/video4linux/extract_xc3028.pl) both were able to tune.  The DViCO still can't find Channel 10, but the LeadTek finds everything with no problems.
Unfortunately an AppArmor issue prevented the recording schedule from being applied last night, but this morning the DTV2000H is recording crystal clear TV. Nice - thanks Mike!
All I have left to do now is grab some nice icons and add them in.