Posted by

cafuego

on Thursday 26 January 2012.
... in which I log my astronomickal adventures around linux.conf.au in Ballaarat. Verily.
Monday 16 January 2012
On monday evening I was invited to a property about an hour north of Ballarat to do some observing from a hill-top in an area without (much) light pollution. The evening was perfect and much was to be seen even without any optical augmentation. M45, the milky way, the coal sack & magellanic clouds were perfectly visible with the naked eye. Sadly the southern cross was pretty low on the horizon.
I'm happy to say the winning entry in the LCA photo competition was taken at this place :-)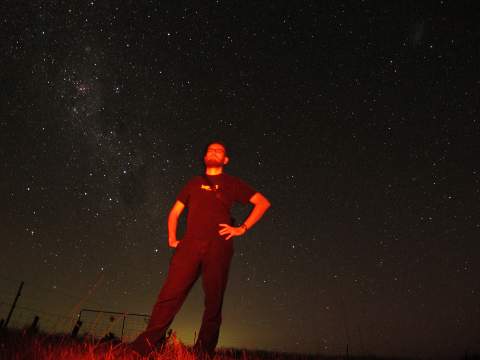 Photo by David Basden, showing the milky way, coal sack and small magellanic cloud.
I took a series of photos of the Orion nebula, but haven't had the time to try some of the photo stacking apps with them yet.
Thursday 19 January 2012
Weather and drinkingsocial engagements didn't really allow for much in the way of observation until thursday night, when I dragged my scope out onto the cricket field on campus. It was pretty late, so we didn't managed to see Venus before it disappeared behind the treeline.
Conditions were less than ideal, with flood lights on the other end of the field messing with night vision and a cold southwestern blowing in cloud and causing dew. I got a cold. (Achievement unlocked!)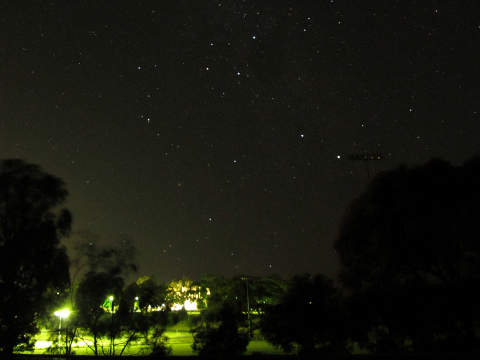 Photo by David Basden.
Still, Jupiter and the Orion nebula were blingy enough to be able to see through my scope and they duly impressed some of the gathered. One other person (self confessed noob, never used scope) brought a 6" motorised schmidt-cassegrain scope and we managed to successfully align it via Jupiter, Betelgeuse and Sirius then and found various things to look at through holes in the cloud cover.
We played a bit with the various eyepiece sizes when looking at Jupiter, but cloud made the image hazy-ish regardless.  I am now in envy of a motorised scope :-)  We also spotted about 5 sattelites zooming along, one of which passed directly in front of Jupiter and was observed through both scopes simultaneously, so I'll call that a confirmed sighting!
I became a lot more adept at aligning the scope and generally managed to get what it was I wanted to look at into view within a few minutes or so. Except the horse head nebula, that is. I could not for the life of me even find Alnitak that evening!
However, it turns out that with a Celestron 130 you can easily see Jupiter through a layer of cloud, though not in focus.
As we packed up and walked back, the cloud cover disappeared. (Achievement unlocked!)
Friday 20 January 2012
On Friday, an LCA organiser kindly offered me a reserved spot on the Ballarat Observatory tour, which I of course accepted. There was come scattered cloud when we arrived, but the observatory volunteers managed to get everyone to catch a glimpse of Jupiter and its moons through the Oddie and Federation telescopes.
As cloud rolled in (Achievement unlocked!) we were ushered inside for a few 3D videos, which worked about half the time for me but made me squint quite badly. They were a bit daggy for the LCA geek audience, but considering the goal of the observatory and the intended audience I think they're alright.
Still, I didn't feel like squinting uncomfortably for an hour so I nicked off out the back and stood around outside for a little while, getting a short tour of the Jelbart telescope from one of the volunteers. As that concluded, I noticed the cloud cover had completely disappeared and everyone was still inside, watching the videos.
I snuck off to the Oddie telescope and had it to myself for a good 20 minutes. I now have giant 80" telescope envy as well :-)  I did some eyeballing of Jupiter and the Orion nebula and found that my own telescope is really badly in need of collimation. The Oddie, on the other hand was wonderfully sharp, and the bands on Jupiter were lovely and well-defined.
The other finished their video at that point and discovered the sky was clear, so they came up and had a sticky-beak around the sky, before being ushered back on the bus and driven back to the campus. I drove myself up, so hung around the observatory for a little while afterward, deflecting attempts by the volunteers to have me provide free IT support for Windows XP (Achievement unlocked!)
We had a quick look at the Rosette nebula before packing up the Oddie and closing the roof. On the way out, a member of the observatory beckoned us to have a look through his telescope, in which the two main components of α-Crucis were separately visible. Lovely :-)
What next?
There are a few things I would like to do to make observing with my own telescope a more enjoyable experience.
Collimate the telescope properly (well, need not want)
Obtain more varied eyepieces, as I currently only have two
Make a carry case for the telescope, as carrying a dodgy cardboard box is sucky
Obtain some filters, as I have none
Obtain a motorised mount, to aid photographing faint objects
Obtain a higher magnification barlow lens for the camera adapter, but this is useless without the motorised mount or proper collimation
Obtain a spotting scope to aid aiming the telescope
Obtain a focuser with finer control
Advertising
If you're interested in amateur astronomy and don't want to go overboard on investing time and energy and obsessing over it, or use don't want to webforums to connect with others or use web forums at all, join the skyeballing mailing list.