Posted by

cafuego

on Sunday 16 August 2015.
At last week's telescope driver training I found out that Melbourne contains a 1 to 1 billion scale model of the solar system. It's an artwork by Cameron Robbins and Christopher Lansell.
The Sun is located at St Kilda marina and the planets are spaced out along the beach and foreshore back towards the city.
Since the weather was lovely today, I thought ... why not? The guide says you can walk from the Sun to Pluto in about an hour and a half, which would make your speed approximately three times the speed of light, or warp 1.44, if you like.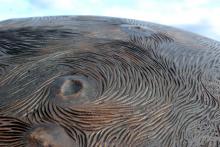 The Sun. It's big.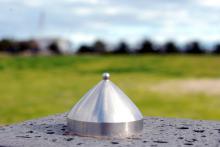 Mercury, 4.9mm across and still at the car park, 58m from the Sun.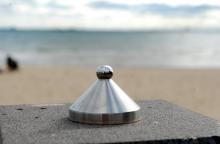 Venus, 1.2cm across on the beach at 108m from the Sun.
Earth (1.3cm) and Moon (3.5mm) are on the beach as well, at 42m from Venus (and 150m from the Sun).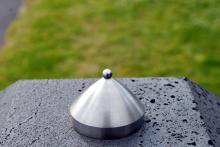 Mars is 6.8mm across and at the far end of the beach, 228m from the Sun.
The walk now takes you past the millions of tiny grains of sand that make up the asteroid belt and the beach.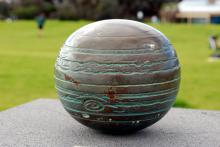 Jupiter is 14cm across and lives 778m from the Sun, near the Sea Baths.
The outer solar system is rather large, so it would be wise to purchase an ice cream at this point.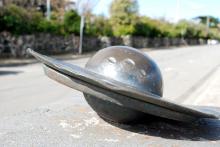 Saturn (12cm, rings 28cm) is nearly twice as far away from the Sun at 1.4km near St Kilda harbour as Jupiter was.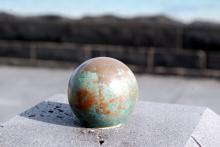 Uranus (5cm) is so far from the Sun (2.9km) that it's actually in the next suburb, near the end of Wright Street in Middle Park.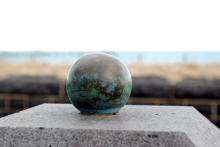 Neptune (4.9cm) is in the next suburb again (Port Melbourne) at 4.9km from the Sun.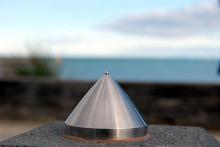 No longer a planet, but still included. Pluto is a 2mm pellet on the beach at Garden City (yet another suburb along again) at 5.9km from the Sun.
On this scale, the nearest star (Proxima Centauri, an uassuming red dwarf) is about 40 trillion kilometers away from the sun. Which, on a one to billion scale, happens to be about the same as once around the Earth.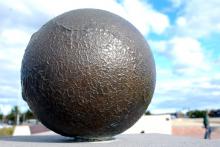 Proxima Centauri is just on the other side of the Sun from the rest of the solar system, a cool 4.2 light years away.