Posted by

cafuego

on Friday 24 April 2009.
Ever since the explosion on the boat full of Afghani refugees, the news has been full of scaremongering again. They're faithfully reporting how we'll be overrun with asylum seekers because the new goverment has changed policies.  I'm calling it scaremongering because they never report on the actual total number of asylum seekers Australia gets or, for that matter, the relative amount compared to other countries.
I've always known that Holland (half the size of Tasmania, about as many people as Australia) got far more requests for asylum than Australia, but I had no idea of actual numbers.  During this evening's news I decided to have a bit of a google and find out.
UNHCR has conveniently provided a PDF with statistics from between 2004 and 2008 for pretty much all countries in the world. Unfortunately the stats for Holland are not reliable, so I've left them out of this graph.
So here it is; a graph that shows the number of requests for asylum as a percentage of the total population. You can see that  compared to this relatively representative list of developed countries Australia actually gets a lot less than average.
Less than average even when you include the few hundred people who arrive by boat each year, who get intercepted and processed off-shore, as they are not included in the UNHCR numbers.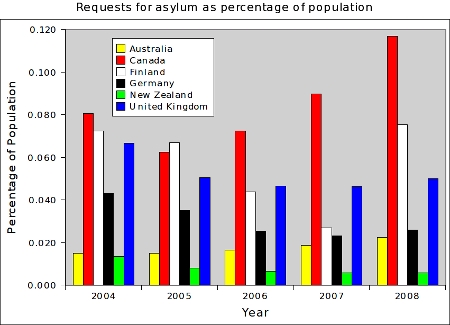 Yes, that's 0.022% for 2008. So my take on the news reporting about boat people? Cheap sensationalism, playing on xenophobia. Shame.
Sources: